Free Halloween Activity Pages!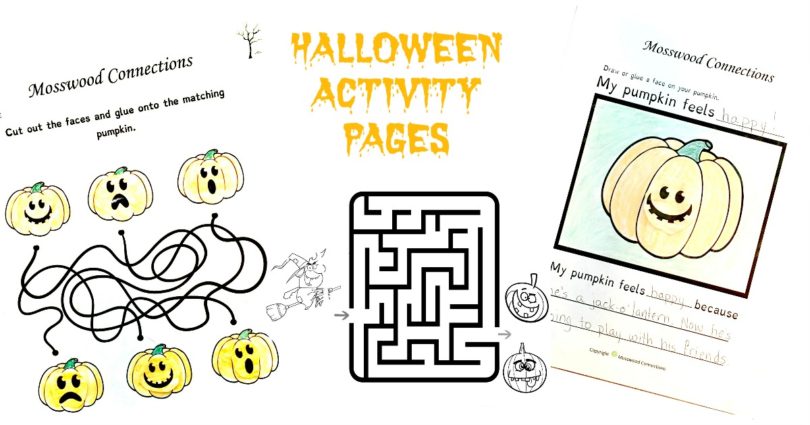 Keep the Kids Happy and Busy
Happy Halloween!
Halloween is a favorite holiday amongst the younger set. We can understand why; there is so much fun involved in celebrating Halloween. Combine pretend with sweet treats and you have a holiday that is sure to please the kids. Halloween has something for everyone, from the decorations to the parties there are so many ways for kids and adults to enjoy themselves. We have created quite a few hands-on Halloween activities that the kids love. This time we decided to make some fun  Halloween Activity Pages that you can print for an easy way to keep the kids happy and busy.
This page contains affiliate links. Please visit our disclosure page for more information.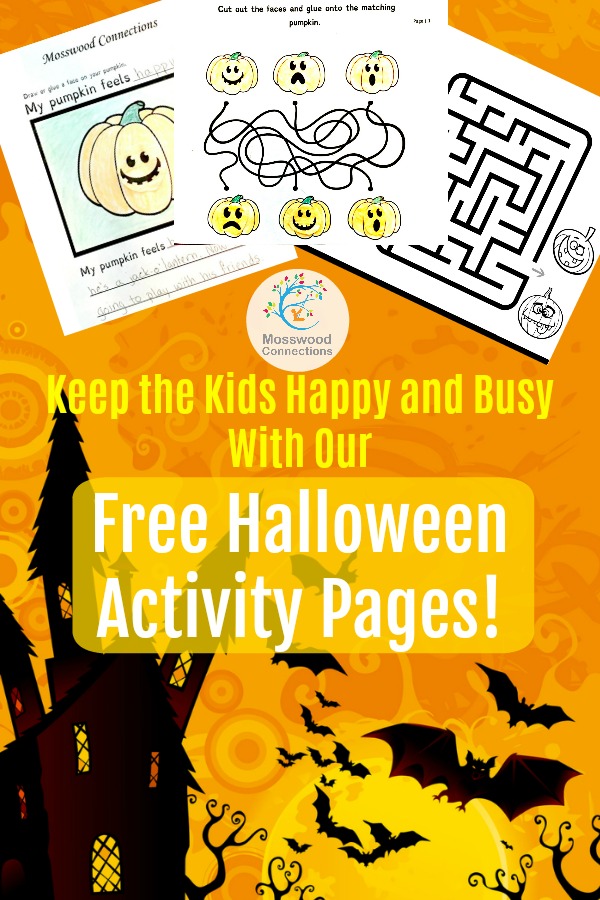 Halloween Activity Pages
We have noticed a lot of kids having issues with their vision. If a child has a hard time with visual tracking this will translate to having issues with all sorts of skills, including reading, So why not give young eyes plenty of opportunities to practice and exercise while they are having fun? Mazes are a great way to do that. We think the kids will like this Halloween themed maze.
Going along with the theme of Halloween Mazes we decided to sneak in more skills and add in cutting and coloring for this Halloween activity page.
Our work with children on the autism spectrum has us always looking for ways to explore feelings. Our How Does My Jack o'Lantern Feel Halloween simple coloring and writing activity page is a fun way to get the kids to think about why we feel a certain emotion. Since this page is for young children we have them dictate their sentences.
While we were making our other Halloween pages we came across some cute clipart so we figured why not turn them into a coloring page?
We have so many other entertaining Halloween inspired activities for you. From recipes to crafts there is something for everybody here! Just check out the activities below.
MORE HALLOWEEN ACTIVITIES FOR KIDS
Looking for more fun Halloween activities for your kids? Here are some of our favorites:
DIY Felt Boards: Use your felt scraps to make a Halloween themed felt board. Free printable templates.
Halloween Social Story: Holidays go more smoothly when children are prepared. Social stories are great tools for explaining new situations or expectations.
Make a Haunted House: Mama Smiles makes it easy for you with her adorable free printable.
Halloween teacake spider treats are perfect for any Halloween party. The Gingerbread House has an easy to follow tutorial so the kids can help make these adorable cupcake toppers.
Cardboard Tube Monsters: This is a super cute craft from The Joy of Sharing that the kids will like to make any time of the year.
Frightfully Fun: Halloween Photo Shoot and Sensory Play: Swami Mommy shows us how to get the perfect Halloween themed pictures of our babies while the babies have fun exploring textures.
X-Ray Exercises Pretend Play or Halloween: "Children can use their imaginations and get some physical activity while they pretend to be skeletons."
Halloween Ghosts Painting Activity: Preschool Toolkit has created an adorable sponge painting project the kids will love.
Neon Splatter Paint Halloween Banner: Projects With Kids takes your Halloween decor to the next level with an easy and fun process art project that kids of all ages will love doing.